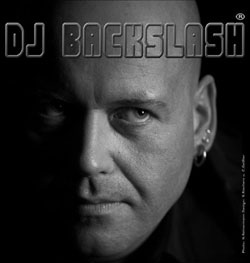 DJ Backslash - often called "Mister 100%" - is beyond all doubt a versatileb allrounder. His sound-sets are based first of all on dance-floor and party-crowd. His individual long-time club-experience - a mixture of house, electro, minimal as well as techno and progressive - that speak for itself.
His career started in a village disco in the north of Germany in 1990. At this time when funk, soul, rock and other music from the charts were regularly
played and a CD-player was not part of the standard equipment of the clubs. But this was not the problem at all because DJ Backslash always was fascinated by the music on vinyl. So a "rookie" started his first steps into deejaying.
1997 Backslash also began to produce his own music - which first of all was line-house and dance. He tried to arrange songs, to record and remix on an
Atari-computer, Yamaha DX 7-synthesizer and an analogue-sampler. But the first results seemed to be a bit doubtful. After some more tries and errors and
changing his producer again the first own single: "Air-Condition" was brought out a year later. He performed it live as "the newcomer of the week" on the music channel VIVA-TV in Cologne (Germany). This turned out to be a successful entry into the world of music business being in that interactive show featuring the VIVA-Allstars: Backstreet Boys,Touche, Scooter and Alex Christensen (U 96). But after all he still was waiting for a so badly wanted record deal.
Now Backslash specialised as a DJ even more on electronic music (trance, house, techno, progressive). From 1999 to 2001 he became a well known resident-DJ in the legendary techno-club "A 2" in the town of Peine near Hannover. He was able to let the techno-crowd go crazy on every event while performing with the top of the national and international DJ-stars as there were: Westbam, Lexy & K-Paul, Hardy Hard, Africa Islam, Marusha, Azzido da Bass, Moguai, Phil Fuldner, Tomkraft, Ives de Ruyter, Blank & Jones, Talla 2xlc, DJ Quicksilver, Tom Wax , ATB, Hooligan, Andry Nalin, Marc Spoon, Tillman Uhrmacher, Warmduscher, Kai Tracid, Natalie De Borah , Melanie Di Tria, Steve Mason, DJ Sammy,
Gary D., DJ-Shog, Cosmic Gate, DJ Rock, Chris Liebing.This was the time when you were able to watch and listen to DJ Backslash on all other main events as for example as the permanent local hero in the "Reincarnation Rave" in Hannover or on "Radio Sunshine Live" and on other well known radio stations.
Then from 2002 to 2005 DJ Backslash was working for the Braunschweig radio-station
"Radio Okerwelle 104,6" every week, where he and his DJ-friend Andreas B. had their own show "Deep Space Live".
In the beginning of 2001 Backslash got to know the producers of the "Plasticstudio" of
that time: Tom Porcell (Funabashi), Norman Bass and DJ Kosmova (Royal Gigolos). From
the first moment on everyone got along with eachother so well, that they decided to start some new projects together. Finally in 2002 the second vinyl-release "Backslash-Rhymes
and Rhythms" was brought out on the indie-label "Pro-Ceed" (Max/Headline), for which the Deggendorf DJ and producer Kaylab a.k.a.Reeloop added another mix to this record.
The official hymn of the Sony Dreamdance 23 "Backslash-Move your Body" was released as
a Kosmonova-Mix at the end of 2002.
Over the last years up to now further productions, remixes and chart-hits were created for national and international labels (Ministry of Sound, EMI, WEA, Urban/Zeitgeist/Universal, Sony, Dos Or Die Records) and Artists (Groove Coverage- Moonlight Shadow, God is a Girl,
/Norman Bass- How u like Bass? / Kosmonova - The Daydream, /Sha - Vergiss mich).
2006 DJ Backslash and D-Gor produced "Electronic Body", In the middle of 2007 the vinyl
and the Bee-Low-mix were brought out as well as numerous sampler-editions (Top of the Clubs, House of House ..) over Diskret/Storm/Kontor Records. This track really let the housefloors shake and tremble.
At the moment the guy from Braunschweig-Goslar fills the clubs with the
magic of his sound-sets every weekend. You can watch him as the resident-DJ in
"N8Werk"in the town of Aschersleben.