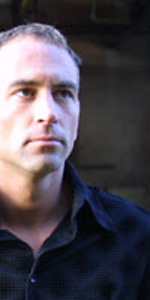 At the secondary school were dj competitions held for enthusiastic students, this seemed to Maurice fun to do but unfortunately there were so many submissions that he was never selected. During the training MTRO he got this opportunity for occasional (together with other students or teachers) during schoolfeestjes to run. Since when Maurice was all music lovers this was a good earth.
When Maurice during a "werkvakantie" in Calella in Spain got the chance to occasionally agree on a plate to continue with the house DJ, he got a little by mixing and a new hobby was born. During his internship in Italy as a tour leader Maurice went more often run in the local nightclub and he started with (then) cassette tapes to take.
After completing his training was Maurice by his mother friendly, but urgently, once invited to work and they took him to an ad where a DJ was wanted for Hello Cafe in Scheveningen. Here began Maurice for the first time (with little experience) to work as a DJ. After a year was small in this case it viewed and he came Chiel Jongejan against those in Rotterdam Skihütte a wild start.
After a discussion would be the new basis for Maurice.
The DJ career of DJ Maurice is only really began when he was on January 30, 1997 at the Apres Ski Hut in Rotterdam is to work. From that day he was full-time busy with everything to do with music by and for this case.
In the early days he worked many long nights of the week at the Town Hall Square.
It was not always easy to enter a new case with a new concept to run because there were no examples but the Après Ski Hut is now well established concept throughout the Netherlands (and beyond).
Many different music that each other (very) soon rotate so that everyone in a short time his / her favorite music over hear, but nobody will be bored by (too) long numbers.
This with the aim of the vote throughout the evening summit!
Of course, every action and every club / otherwise so big at every dj-set fits Maurice are muziekkeuze. It can happen that one evening he is a nice club-set lays out with occasionally what R & B and some brief moments celebration, but also an old-fashioned après ski set with a lot of English music as well.
In 1998 DJ Maurice got the idea to CDs to make room for the Après Ski Hut.
This yielded more than 10 gold records and CDs are all these years one of the best-selling CD compilations of the Netherlands, of which there are more than 1,000,000 have been sold!
He also made many of the songs on these CDs were, often under other names. Many of these songs are on this site can be found.
At the end of 2005 after Maurice took almost 9 years (and 17 CD's) farewell to the Skihütte to further his own career.
In early 2001 was the Après Skihütte benarderd by the Executive Board of Heineken Cafe Gran Canaria on whether it was possible that the Après Skihütte there throughout the summer entertainment could arrange. This seemed Maurice is a great challenge. Together with the owner of the Après Skihütte he brought a visit to Gran Canaria and DJ Maurice began with the preparations.
It was a great success for both the Heineken Après Ski Hut Cafe as the many positive responses. In the summer of 2003 was the Après Skihütte back to score in the Heineken Cafe.
Because it did so well is that DJ Maurice mid summer travelled to Austria to serve a catering opportunity to find suitable for the Après Ski Hut on tour. In the winter of 2001 began the second tour abroad in Kirchberg in Tyrol.
DJ Maurice has also helped the TV program "FROM YOUR SKIHUT" (on the former TV channel V8). It was a wise choice fun program that was incorporated in Austria in collaboration with the Skihütte.
DJ Maurice has many years (since the summer of 2003) in Salou on the famous "Holland Party" discotheque in "Pacha" commented. This weekly festival attracts thousands of people every Wednesday and is a familiar concept to the Spanish costa! The first 4 years in cooperation with TMF (Jeroen Post and Jeroen Niewenhuize) and last year with Partysquad.
Similarly, for years many other known Towns such as Blanes, Llorett de Mar, Calella, Albufeira, Gran Canaria and Mallorca summers regularly treated to a performance of Maurice Dj.
Since Maurice an avid skier and snowboarder, you can find him regularly in the winter sports. is already years in the agenda of Maurice stand include Mayrhofen, Westendorf, Val Thorens, Gerlos and Hinterglemm.
Do you own a company abroad or do you know anyone who is interested to DJ Maurice progress? Please contact with info@dj-maurice.com and we will see what we can do for you. This could be for the duration of 1 day to even a few months (as is done in ao Belgium, Switzerland, Austria and Spain).
Dj Maurice is devoting time in itself produce plates.
Many of these plates are already long time (gray) turned in the nightlife. (such as: Hands Up, Do you even for me, I kiss your lips, Good to go 2005, Calabria, Opblaaskrokodil, Summerlove-Remember house and several plates.
Maurice also works a lot with (known) Dutch artists together as: Gordon, Gerard Joling, Wolter Kroes, Arne Jansen, Starkoo, Rob Ronald, Def Rhymz, Gebroeders Ko, De Sjonnies, Sugar Lee Hooper, John Spencer, Bonnie St. Clair, Cooldown Cafe, Trafassi, Huub Hangop, Heavy Boys, Eddy Walsh, DJ Maarten, Dj Yorit, Ome Henk etc. etc.
More information on the page "Produce". The crowds produces Maurice the last time only things he really likes it and he always writes more songs themselves (or together). More information on this, the "news" page or "works".